01.
Hillsboro Aviation was founded in 1980 as Hillsboro Helicopters, a one-helicopter operation in Hillsboro, OR.
A sleepy agricultural town 15 miles west of Portland, Hillsboro was home to the Portland-Hillsboro Airport. As the city's landscape evolved with the introduction of technology firms investing outside Portland's city limits, Hillsboro Helicopters found growth as well, steadily building its helicopter and airplane flight training programs serving local area pilots.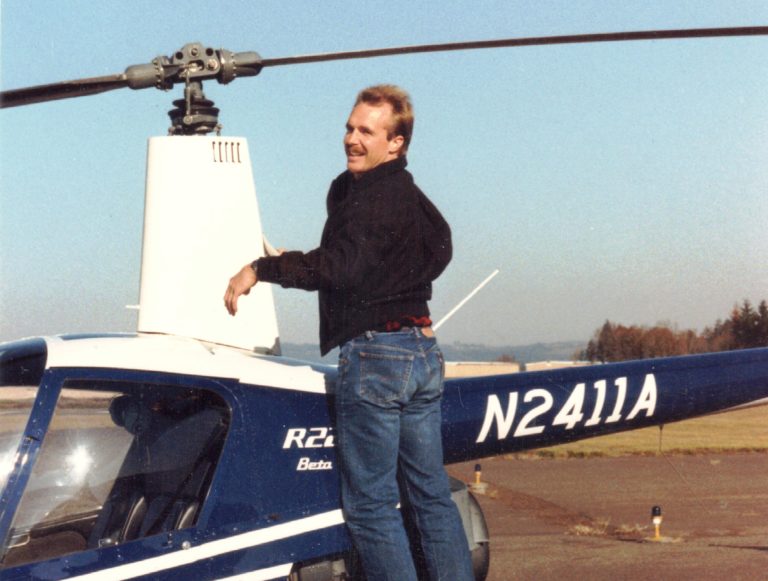 02.
In 1983, Max Lyons joined Hillsboro Helicopters as a helicopter student.
A fourth-generation logger, Lyons first encountered the helicopter industry in 1974 as a ground crew member for a Sikorsky S-64 Skycrane. After completing his helicopter training, Lyons served as a flight instructor and pilot flying turbine helicopters on utility missions. With a passion for and history with Asian culture, Lyons, a 25-year practitioner in the traditional Japanese martial art of Aikido, pioneered Hillsboro Helicopters' first introduction to business partnerships in Asia, eventually managing the company's foreign student pilot program.
03.
In 1992, the company sold to Ed Cooley, a Harvard Business School graduate and former CEO/Chairperson of Precision Castparts.
A humanitarian at heart, Cooley led Precision Castparts to become a Fortune 500 company, a legacy that would continue for over 50 years as the world's leader in manufacturing of jet engine castings, blades, and fans. Cooley mentored Lyons through a promotion to General Manager and Vice President responsible for operations. Together, Cooley and Lyons took the previously pilot-owned school into the world of business philosophy, implementing large company practices rooted in a relationship-first philosophy with one aim in mind: doing business differently.
04.
Under their leadership, the company expanded its portfolio with an increased focus on its contract & charter, sales, and service divisions.
In 1996, the company's name changed to Hillsboro Aviation to better reflect the full scope of the company's helicopter and airplane operations. After leading the company for seven years as its general manager, Lyons purchased Hillsboro Aviation from Cooley and became its President and owner.
Over the following two decades, Hillsboro Aviation grew to become an internationally recognized brand. The company grew to over 285 employees and 90 aircraft, and conducted business with customers from over 75 countries.
05.
In 2014, Lyons sold the flight training division, now called Hillsboro Aero Academy, to a group of education-focused investors.
The strategic sale of the flight training division allowed the company to shift its sole focus to its contract & charter, sales, and service divisions, thereby expanding its service offerings, international reach, and customer experience.
In 2016, the company unveiled its state-of-the-art headquarters complete with 32,000 square feet of hangar space and 19,000 square feet of office space. In 2017, Hillsboro Aviation received the Varco Pruden Hall of Fame "Best of Category" award for transportation in recognition of excellence in design, quality of construction, and green sustainability.
06.
Today, Hillsboro Aviation offers complete helicopter and airplane services comprised of five divisions: contract & charter, defense operations, aircraft sales & management, service center, FBO, and parts sales.
Serving domestic and international markets in the government, commercial, and private sectors, the company has over 85 employees and 14 turbine aircraft. It is ISO9001 and AS9110-certified and operates out of its award-winning headquarters at the Portland-Hillsboro Airport (KHIO).